Track Record
Numerous game companies use BISHAMON.
About BISHAMON
Your estimations will change.  Only one person in charge of effects? No problem!
BISHAMON is a polygon-based 3D effect design tool for creating things like flame, smoke, and magical effects.
Since BISHAMON is a dedicated effect design tool, the interface is easy to understand and quickly learned.  With a little trial and error, make dramatic improvements, lighten the burden on programmers, and put designers in control of effect creation.
Simple and intuitive.  Master drawing textures in just 1 day!
SDKs compatible with multiple platforms eliminate waste in the effect creating process.  The costs associated with tool maintenance, management, and extensibility are normally tremendous.  But, with BISHAMON you can focus your resources on content creation and quality enhancements.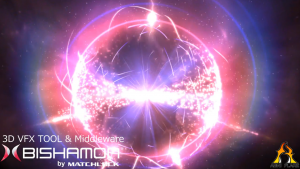 Samples and Instructional Videos
Manual
| | | |
| --- | --- | --- |
| BISHAMON Tool | Personal / Corporate | |
| BISHAMON Introductory_Manual | Corporate | |
| BISHAMON Introductory_Manual_for_Unity | Corporate | |
|  BISHAMON SmartPhones Functional Limitations | Corporate | |
Downloads and Evaluation Requests
PERSONAL

Individual Licenses

BISHAMON Personal is a development package for individuals and indie developers with annual sales under 10 million Japanese yen.

BISHAMON Personal is a 1-month free trial version.      Go to the Matchlock Store and buy a Personal License to continue using BISHAMON.

For comments and questions, please make good us of the community BBS!

ENTERPRISE

Corporate Licenses

For corporate contracts and BISHAMON Enterprise, please refer to the following.

Corporate Contracts and BISHAMON Enterprise

For corporate contracts, evaluations (1-month), and estimates please go to the following.

Request BISHAMON Enterprise Evaluation

Request BISHAMON Enterprise Estimate

The following Download Site and Support BBS may be used upon entering into a corporate contract.  ID and Password are necessary for access and will be provided once the contract process is complete.