Mass Particles
The particles are updated and drawn with GPU processing only.
Generating large volumes of particles is possible, but there are numerous limitations with animations.
Depending on hardware and/or API limitations, it may not be possible to use this particle type.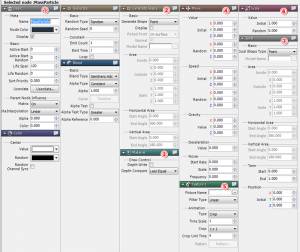 This is the mass particle Inspector.
The following are descriptions of the unique settings for mass particles.
①Basic Settings
Parent Node Influence
Matrix:Set Move, Rotate, and/or Scale to Influence/don't influence/influence only when generated.
②Generate-Shape
Slope settings not available, but other settings are the same as for Quad nodes.
③Material
Drawing Operations
Settings are only for depth writing tests.
④Move
Value,Speed settings are the same as for Quad nodes.
Gravity:Set acceleration to apply to each direction.
Deceleration:Set deceleration with respect to speed. The smaller the value, the slower the stop.
Noise
| | |
| --- | --- |
| Start Life Rate | Set between 0 and 1. Set to 1 and noise is introduced all over. Set to 0.5 and noise is introduced to the latter half. |
| Size | Set the size of the noise. The larger the value the bigger the range. |
| Frequency | Set the frequency at which noise is introduced. The larger the value the more times noise is introduced. |
⑤Texture 1
Specify settings for only 1 texture.
⑥Scale
Set size for squares. Set random range.
⑦Goal
Field settings cannot be used for mass particles,
but settings for Goal field can be specified with the Inspector.